China Peanut|Almond Strip Cutting Machine For Sale
The rise of peanut cutting and slicing, meet the requirements of the public to peanuts, also gives new technology to the peanut machine at the same time, the emergence of peanut strip cutting machine but also laid the groundwork for the development of peanut strip cutting machine.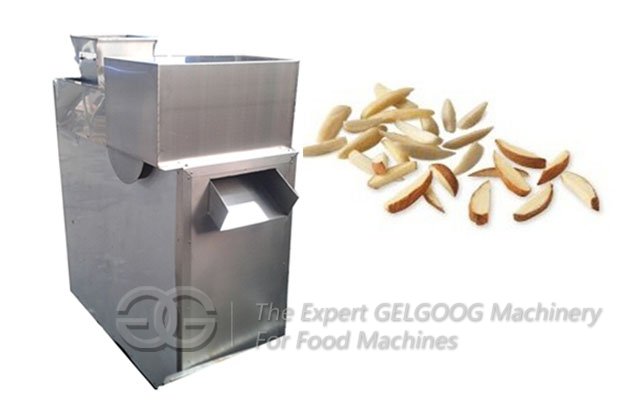 This machine consists of hopper, vibration feeding device, knife, cut roll and discharge screen and other parts. After 20 minutes soaking in hot water, peeled peanut can be cut into strip by this machine. At the end of grooves, there will be cutter roll with corresponding blades. When peanut kernel pass there blades, will be cut into strip shape. The equipment is a professional machinery used for cutting peanut, almond, and other nuts into strip shape.

Advantages of peanut strip cutting machine:
1. High quality, the machine is made of stainless steel, meet the hygiene and healthy for food standard.
2. Machine has 44pcs blades, when cutting peanut, all peanut will pass blades through grooves, ensure machine cutting precision.
3. There are 3 motors on this machine, separated for feeding, vibrating and cutting. Easy to control.
4. Peanut strip cutting machine can change discharge screen according to peanut size.
5. Cutting strip uniform, smoothly and vertical size is long. All blades distance is same, and peanut pass blades all at same line, which make cutting strip uniform.