Hazel Nut Sauce Grinding Machine Manufacturer
| | |
| --- | --- |
| MOQ: | 1 /Sets |
| Brand: | GELGOOG |
| Certification: | CE |
| Supply Ability: | 200 Set/Sets Per Month |
| PAY METHOD: | WEST UNION L/C T/T CASH |
| Warranty Time: | 12 Months |
| LOADING PORT: | Shanghai/Qingdao |
| Country Of Origin: | China |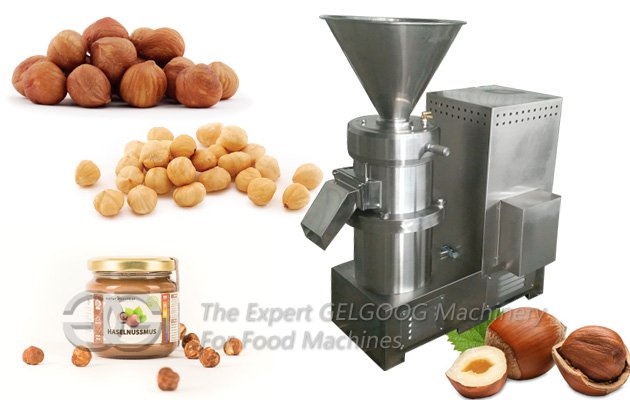 Application
This hazel nut sauce grinding machine is mainly used for grinding hazel nut,peanut,almond,sesame seed,cashew nut,walnut and so on.
Main Feature
The compact structure, smooth operation, low noise, corrosion-resistant, easy to clean, easy maintenance.
Features
Introduction of Hazel Nut Sauce Grinding Machine:
This hazelnut grinder is made of stainless steel. According to the different grinding materials, the internal structure of the machine and the use of materials to take a differentiated design, the processing of materials to further increase the fineness, increase production. Can adjust the thickness of the grinding head, more able to adapt to customer requirements. Water circulation pipe diameter increases, increasing water flow, greatly reducing the temperature of the material, so that the taste of the product closer to nature.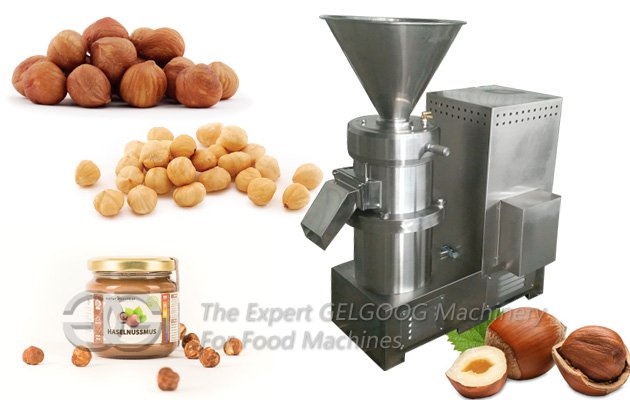 Advantages of Hazel Nut Butter Grinding Machine:
Hazel nut sauce grinding machine in the introduction of foreign technology under the premise, continuous innovation, product quality greatly improved, expanding the scope of use and extension products, formed a series of products, can meet the requirements of processing fineness different materials in many industries, become the preferred equipment for fluid material processing. The ultra series colloid mill has the advantages of stable performance, easy to use, long service life, easy maintenance, corrosion resistance, wide application and many other advantages.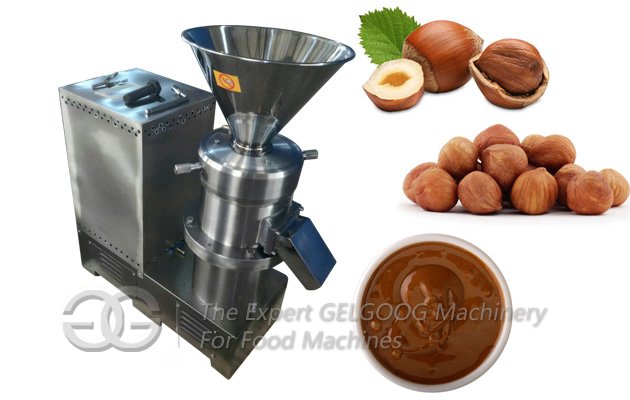 Matters Needing Attention:
1. Inspect the power supply system. It must be 3-phase alternating current, and with the mill body grounding properly. The rotating direction of motor should correspond to the arrow marked on the mill base(clockwise)
2. Put through cooling water on to the inlet nozzle 2, but if the speed does not exceed 4000rpm, cooling is unnecessary in general.
3. Start the motor at a touch and go in order to check if any abnormal noise or vibration exists. If so, stop immediately and repair, then test again.
4. Clean the mill after processing timely, Cleaning must be carried out in the running condition, and firstly, turn the gap-regulating ring 6 counterclockwise to an angle not less than 90C.
Related Machine:
Hazelnut Screening Machine
Technical Data
| | | | | |
| --- | --- | --- | --- | --- |
| Model | Capacity(kg/h) | Power(kw) | Voltage | Dimension(mm) |
| GGJMS-80 | 50-70 | 220V/380V | 400*410*930 | 150 |
| GGJMS-110 | 150-200 | 380V | 700*430*1000 | 175 |
| GGJMS-130 | 400-600 | 380V | 990*440*1100 | 285 |
| GGJMS-180 | 800-1000 | 380V | 990*490*1100 | 340 |
| GGJMS-240 | 1500-2000 | 380V | 1320*500*1280 | 1300 |
| GGJMS-300 | 3000-4000 | 380V | 1440*630*1420 | 1600 |
FAQ