Semi-Automatic Peanut Brittle Machine For Sale
The
semi-automatic peanut brittle machine
for sale is applied to the production of peanut brittle, sesame candy, rice candy or other food styles which need to be made in cube.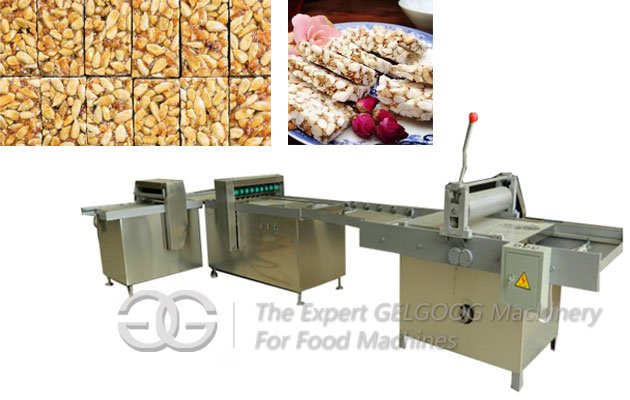 This machine is very easy to operate. You just need to put the prepared materials of soft peanut brittle mixture into the hopper, the moulding machine would automatically finish assigning, pressing, cooling and demoulding.
Then transfer the flatted materials to the cutting machine, the cutting machine will cut it by horizontal and vertical automatically, and the peanut brittle is done! Smooth, beautiful, neat, and delicious!

Features of this peanut brittle machine:
1.Easy operation, high efficiency
2.The products have neat and beautiful appearance, and good taste
3.Can be used to process kinds of brittle and candy
4.Made of stainless steel mateiral, conform to the hygiene standards
5.Non-sticky flatting roller and cutting blades
6.The size of mould can be customized, and the size of cutting can be adjusted to process peanut brittle of different thickness, length and width
7.The machine can be also customized according to users' exact demands
This semi-automatic peanut brittle forming and cutting machine is the best choice for processing peanut brittle products with small capacity.

Technical parameters:
Peanut Brittle Flatting and Forming Machine has general models, such as model GGFK with size of 1180*1110*1160mm, pure weight of 150kg, power of 1.5kw, but if you have other requirements, we will customize it for you!